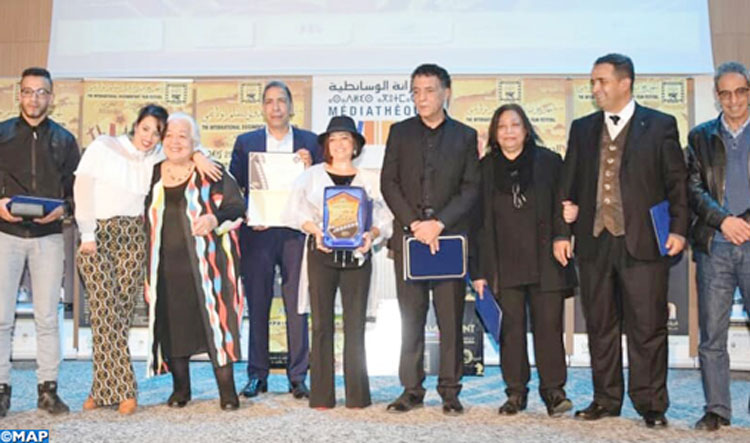 Follow

lobservateur.info

on

Le documentaire ''Poisson d'or, Poisson africain'', une production franco-sénégalaise, vient de décrocher le grand prix du festival international du film documentaire de Khouribga, à la clôture de sa dixième édition.
''Poisson d'or, Poisson africain'' (52 mn-2018), réalisé par Thomas Grand et Moussa Diop raconte l'histoire des pêcheurs dans la région de Casamance, au sud du Sénégal, l'une des dernières zones refuges en Afrique de l'Ouest pour un nombre croissant de pêcheurs artisans, de transformateurs et de travailleurs migrants. Mais face à une concurrence extérieure de plus en plus rude, ces femmes et ces hommes résistent en contribuant grâce à leur pêche à la sécurité alimentaire de nombreux pays africains. Mais pour combien de temps encore ?, s'interroge le film. Le film primé était en compétition avec neuf autres : ''Echos du Sahara'' de son réalisateur Rachid Kacimi ( 96 mn-2108-Maroc), ''Le grand petit Miloudi, une échappée d'antan'' de Leïla Amine Demnati (75 mn-2018-Maroc), ''Alganesh'' de Lia et Marianna Beltrami (60 mn-2018-Italie), ''Bitchabé, le village des forgerons'' des réalisateurs Caroline Robion-Brunner, Marie-Pierre Coustures et Zouhair Fartahi (47 mn-2018-France), ''Silent Cells'' de Mohamed Nabil (65 mn-2017-Allemagne), ''No Shooting'' du réalisateur égyptien Abdellah Adil Abdellah Dessouki (20 mn-2018), ''Les silences de Lydie'' de la réalisatrice Burkinabè Aïssata Ouarma (52 mn-2017), ''Raghu Rai : l'Inde dans l'oeil d'un photographe '', de son réalisateur Avani Rai, le photographe le plus célèbre et le plus respecté d'inde (55 mn-2017), ''Those who remain'' de la documentariste libanaise Eliane Raheb'' (95 mn-2016).
Par ailleurs, le jury des films amateurs a décidé de n'attribuer aucun prix aux documentaires programmés dans le cadre de la compétition officielle. Il s'agit de quatre films réalisés par des documentaristes marocains : ''Four days in the hospitality of the Al Ghiwane people'' de Khalid Makdmine (14 mn-2017), ''Le cheval et le cavalier'' de Yassine Khatib (8 mn-2018), ''Hanin'' (Nostalgie) des réalisateurs Abdelouhad Tamoud et Hicham Madi (17 mn-2017) et ''Catharsis'' du documentariste Anas Khalouk (14 mn-2017).
La cérémonie de clôture de cet événement organisé par l'association du festival international du film documentaire de Khouribga, a été marquée par un hommage rendu à la documentariste marocaine de confession juive Izza Genini, grande amoureuse de la musique et des paysages incomparables de son pays natal, à qui l'on doit notamment les documentaires ''Aïta'' sur feue Fata Bent El Houcine, ''Vibrations du Haut Atlas'' sur la vallée heureuse des Aït Bouguemez ou encore ''Nuptiales en Moyen Atlas'', une invitation au voyage à travers le temps et l'espace pour rejoindre les tribus Zayane et Ichker dans leur célébration de la noce mythique de Asli et Tsilit, le fiancé et la fiancée.